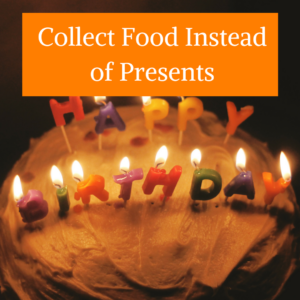 One of the best day of the year for a kid is their birthday, and one of the best feeling a kid can have is helping others. If you put those 2 things together you have the recipe for the best birthday yet! The first thing that the founder of The Food Drive Kids did to fight hunger was to ask for food donations instead of presents for his 7th birthday, and he collected over 250 pounds of food to help his school's Backpack Buddies program. It is one of the easiest ways to help and only takes a few steps:
Talk to your parents to make sure they agree!
Find your local hunger relief organization using Feeding America's Food Bank Finder.
Contact them to find out if there are certain items they need worse than others.
Tell your birthday guests that you want them to bring food instead of presents.
HAVE A PARTY!!
Deliver the food to the food bank!
Know that you made a difference for your birthday!
To learn about other ways YOU can fight childhood hunger click HERE.